Townsville's own
Magnificent Magnetic Island
&
The Pristine Palm Island Group
Bareboat Sailing Charters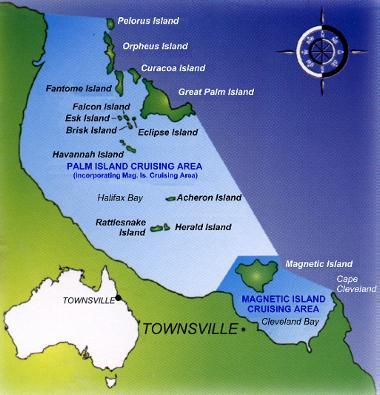 Your charter holiday starts at Townsville's Breakwater Marina, truly one of the most picturesque marina locations in Queensland.

From here you can island hop all the way north starting at Magnetic Island. "Maggie" has a permanent population of 2500 people and offers a variety of activities, bush walks, resorts, restaurants, supermarkets and fabulous swimming beaches.

Carrying on northwards the Palm Island chain beckons you. If you can resist the call there are four coral-fringed uninhabited islands to visit on your passage north.
Lying just south of Hinchinbrook Island, the Palm Group is made up of over 12 islands including Orpheus, Pelorus, Fantome, Curacoa and Great Palm.
Only 2 islands are permanently inhabited. This island chain delights it's visitors with crystal clear waters and soft sandy swimming beaches. The islands are spectacularly beautiful.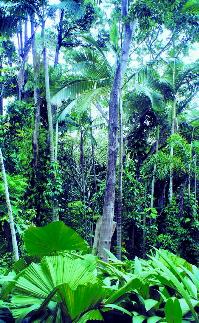 Lush rainforest, gorgeous beaches, aboriginal culture, spectacular coral reefs and fascinating historic ruins make this one of Australia's most exciting sailing holiday destinations.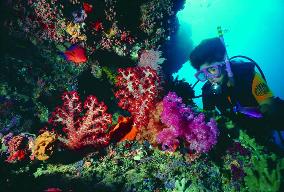 The Palm Group offer fantastic diving and snorkelling opportunities. They are renowned for their unspoiled fringing reefs and there is an amazing variety of coral species along this stretch of the Barrier Reef.
Orpheus Island hosts a 5 star resort and a Marine research station which welcomes visitors. Throughout the cruising area the bird life is prolific and there are regular sightings of turtles, dolphins, whales, sea eagles and dugong.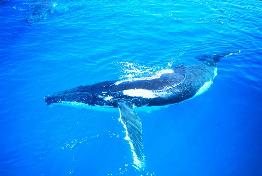 These islands are very lightly visited so remain pristine and completely uncrowded. Visiting sailors can expect to have most bays and islands to themselves. Weeks can go by without a single human footprint being left on some beaches. It is the ideal private holiday. The Palm Group is the realization of that dream image of the deserted tropical island.
If you have chartered before with any yacht charter company or have had suitable experience on a private yacht, chances are you are ready to charter with Magnetic Island Rent-a-Yacht and set sail for the Palm Group for the adventure of a lifetime.
The Bareboat Cruising Lifestyle !
Scroll down for more Images and contact Details
MEDIA RELEASE
BAREBOATING ON MAGNETIC ISLAND
Whether you're one of the lucky thousands who have enjoyed all that bareboating has to offer in the Whitsundays, or just plain adventurous, you now have another exciting destination to explore.
Magnetic Islands renowned sailing waters now host the islands first bareboat charter company . This presents an opportunity for bareboaters to sail a new frontier on the Queensland coast.
Boasting 300 days of sunshine a year, unspoiled beaches and 22 unique bays, Magnetic Island is a sailors paradise. The island is just 8 km from Townsville and has a striking resemblance to the Greek Isles, without the hefty air-fare. Much of the island is only accessible by boat, offering bareboaters the rare opportunity to experience completely secluded anchorages. The passages between anchorages can be as short, easy and protected as you like.
Magnetic Islands first bareboat charter yachts, a 6-berth Beneteau Oceanis 320 and an 8-berth Beneteau Oceanis 430 have commenced bareboat and optional skippered charters. The business specialises in short-hop charters of one or two nights as well as extended getaways of 4-days or longer. The yachts boast all the creature comforts- hot shower, well equipped galley, private double cabins, enclosed bathroom, shady cockpit, swim platform and motorised dinghy.
Charterers can choose to start their getaway from either the company's base at Horseshoe Bay on the north side of Magnetic Island, or Townsvilles Breakwater Marina. A departure from Townsville means visitors can be aboard their boat only minutes after arrival by air or road.
The popularity of bareboating is well established in The Whitsundays. Magnetic Island now offers an off–the-beaten-track alternative. The bareboating concept is simple and has enabled thousands of people to enjoy the benefits of yacht ownership without the hassle or expense. You charter a fully equipped yacht and sail it yourself with your crew. You choose what food and refreshments to take, where you'll sail each day and where to anchor each night. Meantime charterers have the comfort of 24 hour back-up and assistance, in the unlikely event it is needed.
The question most asked by charterers is "How much experience do we need?". The minimum is that one of the members of the charter party should be able to handle a sailing dinghy or beach cat, and perhaps have some crewing experience on a larger boat. All charterers receive a pre-charter information package, a 1 hour briefing before setting off, and have assistance and advice available round-the clock via radio or mobile telephone. If you are a bit rusty, or a complete novice, sailing tuition is available from an AYF Yachtmaster. In as little as half a day you and your crew can learn the sailing basics while cruising. The charterer can choose to either self-provision the yacht or have it stocked with food and beverages for their arrival.
Costs start at $300.00 for the 32' yacht per night which can be shared between up to six people. Fuel, gas and Reef Tax are included making this one of the best value budget bareboat holidays available anywhere in Queensland. The cruising area takes in all of Magnetic Islands 22 bays, Cleveland Bay and Townsville. Apart from savouring the quiet nights and peaceful mornings at remote anchorages like Five Beach Bay and Balding Bay, charterers have the option of staying at the Townsville Marina near the heart of the City, or venturing across to Cape Cleveland.
Please note that unfortunetely due to the pounding the area has taken in recent times the proprietors have chosen to close this busness down.
---
INFORMATION REQUEST FORM